Press Reviews -
Please scroll and click to view full articles

RTE 1 Nationwide TV programme


America's Public Broadcasting Service
(PBS) Network - Out of Ireland
(Please see minutes 17.30 to 26)


RTE 1 Today Show


Book Launch
Taking Heaven Lightly®
Top 3 on Irish Best-Seller List
Click on kennys.ie to purchase the book
"Róisín Fitzpatrick has written a remarkable book that is unique in the annals of near-death experiences. Fitzpatrick describes her own harrowing brush with death and transcendent near-death experience, and guides us through her discovery of the forerunners of NDEs in the ancient roots of pre-Celtic culture. Experiences like Róisín's have now been validated by hundreds of scientific studies around the world, and provide evidence that consciousness is more than the brain and indeed that we are more than our bodies. As a guide to enhancing your own spirituality, Taking Heaven Lightly is a love story in the most sublime sense."

Dr. Bruce Greyson, co-editor of
The Handbook of Near Death Experiences: Thirty Years of Investigation
---
"A book of wise words that will introduce some people to the light, will draw others back to the light, and will itself long shine light in all sorts of unforeseeable and beautiful ways. Every reader can undoubtedly expect to have their own personal epiphany. A brilliant book with an unforgettable message."

Dr. Christine Ranck, co-author of bestselling book
Ignite the Genius Within
---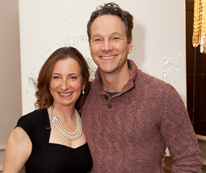 "An insightful and in depth look into what lies beyond our physical realm. Where do we go when we die? Roisin Fitzpatrick's stunning book takes us into the world that lies beyond our senses and suggests ways in which we can integrate that world into our everyday life. It is a remarkable piece of writing and one that ultimately lifts the soul. A must read."

Sean Mahon, actor in the movie Philomena, T.V. series
Red Rock and former leading actor in the 39 Steps on Broadway
---
"I approached Taking Heaven Lightly with my usual academic scepticism, but the clear, sincere, even humorous, style, attracted me and I was drawn in. I remembered that early Irish Christianity is bathed in light. I think Ms. Fitzpatrick's rehabilitation of pre-Christian Irish spirituality of light is excellent. Suaimhneas síoraí "eternal rest" and solas na bhflaitheas "the light of heaven" are two phrases that similarly share the wisdom and beauty of our heritage. I look forward to the author's next inspirational book."

Dr. Tadhg O' Dushlaine,
Head of Department, Centre for Irish Cultural Heritage, National University of Ireland, Maynooth
---
"A very important and poignant personal account of her near-death experience, exploring among other things ancient Irish mythology and megalithic monuments. Róisín Fitzpatrick presents fascinating insights into Newgrange and its associated mythology, suggesting access to a heavenly realm, and brings a real relevance from this ancient culture for modern times."

Anthony Murphy, author of
Newgrange: Monument to Immortality
---
"Taking Heaven lightly is an authentic, moving and motivating book in which Roisin Fitzpatrick shines a brilliant light on her learnings from a near death experience. Read it and be enlightened!"

Dr. Martin Curley, Author,
Knowledge Driven Entrepreneurship
---
In this ground-breaking book, Róisín Fitzpatrick shares with the reader her remarkable journey when in 2004, without any warning, she suffered a life-threatening brain haemorrhage. While in the ICU of Beaumont Hospital, she felt herself being drawn out of her body and enveloped in a radiant light. There, in a blissful vision of the afterlife, she experienced the most powerful transformation of her life. Róisín's discovery – that 'Heaven' lies within each of us, that we are pure love and always at one with the eternal light – changed the course of her world. She went on to make a full recovery by integrating this newfound love and light into her daily existence.
Róisín calls this her 'near-life experience' because it has given her the freedom to truly live life. And she encourages readers to embrace this precious gift of life by asking the question: are you living your best life now? She provides an inspirational guide with simple, yet, powerfully effective practical exercises to show ways to be able to feel and experience this light in our own lives.
Róisín also seamlessly weaves her near-death experience (NDE) with the eternal light – solas síoraí – of our ancient Irish myths and monuments, shining a light on our past, present and future. She shows how we can all connect with this light to enhance our daily lives, and develop a deeper connection to a sense of peace and unity beyond the physical realm. Her near death experience has been validated by Dr. Bruce Greyson, one of the pioneers and medical experts in this field in the United States for over 40 years.
---
Press Reviews:
Anne Cunningham, Irish Independent
"
Taking Heaven Lightly
is…reminiscent of John O'Donoghue's
Anam Cara
in that it explores ancient Celtic mystiscim, and I imagine it will find a similar following."
Sue Leonard, Irish Examiner
"An inspirational guide for those who are interested in spirituality."
Kevin Courtney, The Irish Times
"Fitzpatrick, a former business woman who became an acclaimed glass artist is certainly living life to the full."
Business and Finance
"Roisin Fitzpatrick's debut book –
Taking Heaven Lightly
– tackles her remarkable near death experience in 2004, when she suffered a life-threatening brain haemorrhage."
Donal O'Donoghue, RTE Guide – Books
"…a glimpse into the afterlife that transformed her life in a book that is both a biography and a mission statement."
Image Magazine
"Asking whether we are living the best life we can be, the author hopes her book will help readers to see how precious life truly is. Judging by the smiles in The Westbury [at the book launch], her message must be spreading fast."
Anne Boylan, Social and Personal
"Heaven can wait…Roisin Fitzpatrick's new book
Taking Heaven Lightly
charts the remarkable story of the author's own near death experience."
Una Brankin, Belfast Telegraph
"A Heavenly experience..."
Natalie Burke, RSVP Magazine
"
Taking Heaven Lightly
...show[s] people that they don't need to have any fear of death and by understanding the meaning of this light we can transform our lives from ordinary to extraordinary in ways we can't imagine."
Southside People
"
Taking Heaven Lightly
is nothing short of a riveting read...author takes the reader on a remarkable journey."
Jessica Thompson, Galway Now
"Through her art and her book, Roisin hopes to change people's perspective of death so that we can start to live life in a positive way."
Woman's Way Magazine
"In love and light...a [near death experience] changed Roisin Fitzpatrick's life. Now she hopes to help to change the lives of others...we all have the ability to reconnect with this light and love and in her book Taking Heaven Lightly she shares tips on how we can get in touch with this."
---
<New Author Interview > A Story About Near Death Experiences and The Hereafter w/author @roisinfitz: http://t.co/GZrkdky6aD

— Eamonn O'Brien (@TheReluctantSC) January 15, 2015