Artwork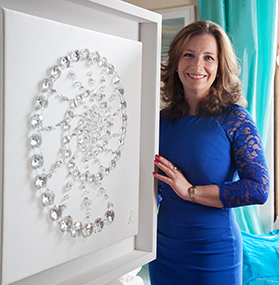 "Art is the magic mirror you make to reflect your invisible dreams
in visible pictures." - G.B. Shaw
Roisin creates each artwork with the finest quality silk and crystal to maximize the reflection and refraction of light.
"Her highly individual work has been widely acclaimed. She illustrates the interconnectedness of light from the dawn of time to the present day, ranging from pre-historic art to nature, to the stars in astronomy to the celtic mythology...all with a uniquely personal and contemporary aspect."
- Irish Arts Review
"Roisin Fitzpatrick's art inspires us to connect with the light within, creating more peace and joy in our lives. We hope you enjoy her art as much as we do."

Roma Downey, actor from Touched by an Angel
Gallery -
Please scroll and click to view full images
Roisin Fitzpatrick – Artist of the Light®, music by Moya Brennan
"The simplicity and the purity of the work is complimented by the complexity and depth of the designs. Every piece seems to draw you in deeper and deeper, in the same way Roisin does when you sit and spend time with her. It is as if her art is a perfect reflection of her soul. To gaze upon it, is to gaze into the very heart of the artist."

Sean Mahon, actor in the movie Philomena , T.V. series Red Rock, Eastenders and former leading actor in the 39 Steps on Broadway
Press Articles -
Please scroll and click to view full articles
Exhibitions
With over 10 exhibitions in the United States of America since 2009 in Manhattan, Washington D.C. and Massachusetts, Roisin's art is currently on permanent display at entrance foyer of The National Concert Hall in Dublin. Her artwork has featured at Dublin Castle as part of the European Year of Culture 2018, The Royal Dublin Society, The Consulate General of Ireland in New York with a two month Solo Exhibition and at The Irish American Heritage Museum in New York State.
"Roisin's artworks are a great example of contemporary Irish art...thank you Roisin for bringing much needed light into our lives at this time when we risk being overwhelmed by darkness. Thank you for creating works of beauty and joy…Ireland is very proud of our rich culture and the work of our contemporary artists. It is a measure of the vibrancy and resilience of Ireland that we continue to produce such wonderful talent as Roisin."

H.E. Michael Collins, former Ambassador of Ireland to the United States